PATCHOGUE, NY – The Zeldin for Congress campaign today released its newest TV ad of the 2020 election cycle, "It's Personal," featuring Amy Thomas, Assistant Chief of the South Country Ambulance Company in Brookhaven.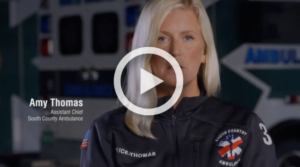 Explaining why her upcoming vote for Congressman Lee Zeldin (R, NY-1) is personal and not about politics, Amy Thomas discusses Congressman Zeldin's many efforts for Suffolk's front line medical workers from the first moment the coronavirus pandemic reached Long Island.
Congressman Zeldin secured more than a million pieces of PPE in one month alone at the height of the pandemic, thousands of ventilators for New York, testing, and funding for Long Island families, businesses, hospitals, and county government.
In the ad, Amy Thomas also highlights Congressman Zeldin's service as a Paratrooper with the Army's elite 82nd Airborne Division. Congressman Zeldin still serves today as a Lieutenant Colonel in the Army Reserve.
Congressman Zeldin also just posted the new TV Ad on Twitter here.